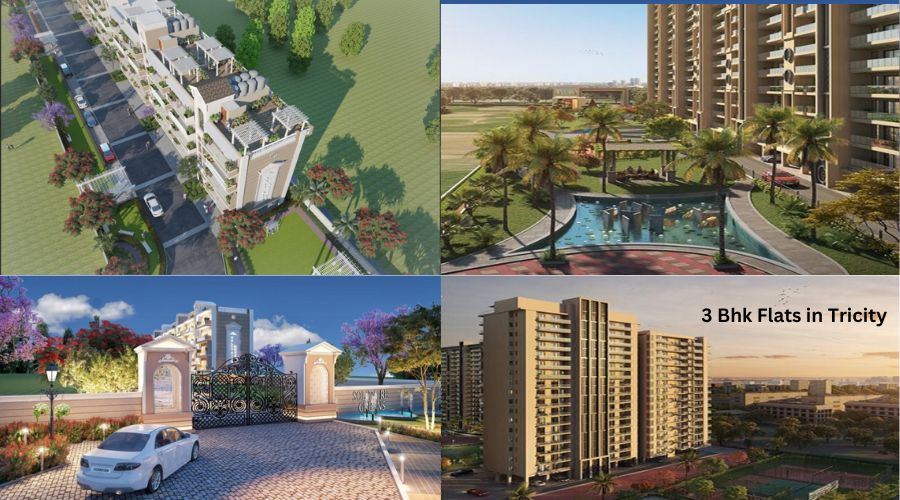 With its ample room and adaptability, 3Bhk Flats in Tricity provides an alluring opportunity for both purchasers and tenants.The "3BHK" abbreviation stands for three bedrooms, a hall, and a kitchen.It provides enough space for a variety of living needs.
Family-Friendly Space
Families of all sizes can find a 3BHK flat that can fit parents, kids, visitors, or even a home office.
Multipurpose Spaces
The extra rooms can be used as home offices, exercise rooms, hobby rooms, or quiet retreats.
Suitable Storage Options
The amount of clutter is decreased by the presence of built-in storage, walk-in closets, or even additional rooms in 3BHK.
Possibility of Rental Income
3Bhk Flats in Tricitymay generate enticing rental income for investors, appealing to both families and working professionals.
Freedom and Confidentiality
Family members can enjoy solitude and independence when there are different bedrooms.Especially when kids become older and need more space.
Having Fun And Hosting
A 3BHK apartment's roomy hall is perfect for holding events, parties, or family movie nights.
Freedom in Interior Design
Homeowners may experiment with a variety of interior design ideas, from the minimalist to the extravagant.Thanks to the wider area.
Value at Resale
The resale value of 3BHK apartments is often higher and they provide a safe investment for the future.
Convenient Living
No matter who lives in it—a small family, a couple, or a single person looking for additional space. A 3BHK flat guarantees a comfortable lifestyle.
Monetary Considerations
3BHK apartments provide a lot of benefits, but they might be more expensive to buy and maintain.
Place Matters
A 3BHK apartment's price fluctuates widely based on the area, the facilities, and current real estate market conditions.
Cost Of Maintenance
Higher utility, cleaning, and repair expenses are frequently associated with larger facilities.
Public Facilities
For a healthy lifestyle, many 3BHK apartment buildings include a variety of amenities including parks, swimming pools and gyms.
Choices for Customization
Customers frequently have modification choices to fit the inside of the apartment to their tastes and way of living.
Ready for Family Growth
Future-proof 3BHK apartments can adapt to a family's changing demands or shifting living arrangements.
Room For The Home Office
A specialised home office may be created out of the extra space.It is essential in the age of remote work.
A Refuge for Visitors
Homeowners who have spare rooms may comfortably welcome visitors, which makes it a great option for hospitality.
Value at Resale and Investment
3BHK apartments are enticing to potential purchasers due to their adaptability and practicality, assuring a healthy resale market.
Summary
3BHK apartments provide a seductive balance of area, adaptability, and investment possibilities. These apartments may accommodate a variety of demands, whether you're a family needing additional space, an investor seeking rental revenue, or an individual with various living requirements.
However, before deciding on this large living alternative, it's important to take into account variables like location, money, and expenditures. The appeal of a 3BHK Apartment ultimately rests in its capacity to adapt to your lifestyle. It gives you space for both your immediate demands and your long-term goals.